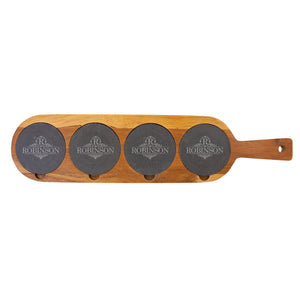 Personalized Acacia+Slate Flight Board 18.5 x 4.25
| | |
| --- | --- |
| American Business | FREE Shipping on ALL Orders over $135 |
| 30-Day Returns | 100% Secured Checkout |
---
Description
Beautiful laser-engraved solid Acacia wood & slate serving board.  Sized approximately 18.5" x 4.25" and 1/2" thick, this custom flight board is the perfect gift for that special someone.   All cutting boards and serving trays are engraved and hand-finished in the Hailey Home headquarters in Georgia.
FEATURES
• 1/2" thick solid Acacia
• Durable slate inserts with custom engraving
• Laser engraved, hand-sanded, and hand finished.  Our slate is NOT printed with ink like many others, and therefore the design will NEVER wear off. It is laser-etched into each piece of slate.
• Custom pieces available! Just contact us.
NOTES
• As we use natural materials like real wood and slate, the grain pattern, coloring, and engraving coloring will vary slightly with each piece.
• Each piece of wood and slate is hand picked to ensure quality. All serving trays and cutting boards are delivered finished and ready for your use!
Production Time
To give each order the time it deserves, and to maintain the highest possible quality, our standard processing time for personalized & engraved products is up to 5 business days. Many of our non-engraved products ship within just 1 business day!

During busy seasons, prodution time may increase slightly as each item is finished by hand before shipping. However we're committed to keeping our production times at a minimum so that you can enjoy your order as quickly as possible!
For customers requiring a specific in-hand date, rush prodution is available for most orders. Please contact us for availablity and pricing.
Transit time via UPS & USPS is generally 3-5 business days. Please allow 15-20 days for international shipping.
The Hailey Home Story
Hailey Home was borne from our passion for both home decor, and the environment. By bringing beautiful products to market and into the hands of our customers, the Hailey Home team works to fulfill our mission of adding a touch of fun and beauty to every home, while using sustainable materials.
We are conscious of the issues that plastic waste presents world-wide. Our personalized hardwood cutting boards not only look good, they do good. By offering an alternative to plastic cutting boards, which harbor bacteria, have a short useful life, and can take hundreds of years to decompose, our wooden boards provide all of the function with more beauty, sustainability, and sanitation.
Together, we can make the world a more beautiful place – both inside and outside the home.
We're proud to be an American business. All of our cutting boards, serving trays, and many other items are hand-finished in our Georgia workshop. All products and product blanks are sourced from North American suppliers, or are made by our partner-workshops across the United States! Each order is shipped from the USA, straight to your home or business.
Buying from Hailey Home brings a promise that you're buying something unique, a world away from the mass-produced products found elsewhere. Equally as important, it signifies a commitment to our environment - choosing a wooden product over a mass-produced plastic one saves unneeded waste and environmental harm, and enables us to save our oceans with your help.
Together, we can make the world a more beautiful place (both in our homes, and in our oceans). We want each and every one of our customers to be proud to call their home a Hailey Home!
THE HAILEY HOME GUARANTEE

AMERICAN BUSINESS
We're proud to be an American business. All of our cutting boards, serving trays, and many other items are hand-finished in our Georgia workshop.
FREE SHIPPING OVER $135
All orders over $135 ship FREE within the continental United States!
QUALITY GUARANTEED
Our 30-day satisfaction policy can't be beat! Full Return Policy
MILITARY DISCOUNT
Hailey Home is proud to give back to those who support our country! We offer a 10% discount to ALL active & former military / first responders.
Great Item
Customization was very nice!
they were absolutely perfect this was the best money i could have spent for my dads xmas gift
Flight boards
Ordered 2. 1 was in excellent condition, 2nd one not so good. Got an immediate response to my complaint email and am getting a new one made and shipped to me. Very pleased with the customer service.